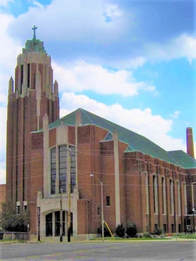 Holy Trinity
Our Vision:
We are a Catholic Community striving to be intentional disciples in love with Jesus, inviting everyone to experience the Joy of the Gospel.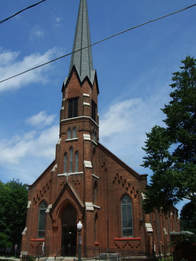 Historic St Patrick
Phone: (309) 829-2197
office@holytrinitybloomington.org
Select an option below to watch our live stream or visit our YouTube Channel.
A Change to the Outside Mass at Historic St Patrick
~ Due to the inconducive nature of cold weather, I have decided to change the outside/parking lot Mass we currently have at Historic St Patrick on Sunday mornings at 8am.  Beginning Sunday, November 8th,  I plan to move this particular Mass to the inside of HSP's church building.  I plan to live-stream the 8am Sunday morning Mass going forward, as I will continue to live-stream two other weekend Masses: 6pm Saturday evening Mass at HSP; and, the 10am Sunday morning Mass at Holy Trinity.  As long as HSP church building can house the number of attendees inside, I will continue that Mass as HSP; if the future number proves to be too many to properly house the number inside, I will move the 8am Mass to Holy Trinity Church building.  As I do with all Masses (weekend and weekday) I will continue to distribute Holy Communion to any and all Catholics gathered/arriving in the parking lots at the conclusion of Holy Mass.  I wish to thank Lance Kwasny for the volunteered use . . . and the setting-up and maintaining . . . of his FM transponder throughout these many months!
A clarification of Pope Francis' most recent confusing public statement
~ You may have heard or heard about a recent public comment made by Pope Francis, in regard to seemingly giving credence and affirmation to homosexual unions.  Given what he has clearly stated earlier in his pontificate, this is simply not the case.   Pope Francis' Post-Synodal Apostolic Exhortation of 2016 entitled, 'Amoris Laetitia' ('The joy of Love') #251 states:  "In discussing the dignity and mission of the family, the Synod Fathers observed that, "as for proposals to place unions between homosexual persons on the same level as marriage, there are absolutely no grounds for considering homosexual unions to be in any way similar or even remotely analogous to God's plan for marriage and family". It is unacceptable "that local Churches should be subjected to pressure in this matter and that international bodies should make financial aid to poor countries dependent on the introduction of laws to establish 'marriage' between persons of the same sex".  As to what he was actually implying (if at all) with his recent statement---as recorded and used within the context of a documentary movie---I do not have an answer and I think it is imprudent on my part to guess.  To the point that, at times, Pope Francis makes statements that are baffling and unclear and are taken out of context and mis-interpreted by a variety of news sources and individuals, there is no doubt.  Going forward, let us continue to pray for Pope Francis and that he is careful with his word choice and that those reporting what he states do not jump to conclusions through "guess-work!
~Fr Stirniman
Office Hours
Due to COVID-19, our church offices continue to be closed for in person contact.  However, the Holy Trinity parish office will be open by telephone only from 10 am - 2:00 pm weekdays. Phone calls for both Holy Trinity and Historic St. Patrick parishes will be answered at the Holy Trinity parish office. The Historic St. Patrick parish office will not reopen at this time.
Holy Trinity Schedule
Mass:
Monday, Wednesday and Friday 8:00 am
Saturday 4:00 pm
Sunday 10:00 am
First Friday 8:00 am
Confession:
Monday, Wednesday and Friday 7:00 am
Saturday 3:15 pm
Eucharistic Adoration:
Monday, Wednesday and Friday 7:00 am
Historic St Patrick Schedule
Mass:
Tuesday and Thursday 5:15 pm
Saturday 6:00 pm
Sunday 8:00 am and 4:00 pm
First Saturday 8:00 am
Confession:
Tuesday and Thursday 4:15 pm
Saturday 5:20 pm
Eucharistic Adoration:
Tuesday and Thursday 4:15 pm
Use the buttons below
to see our full calendar and news.

Annual Diocesan Appeal Update as of October 28th
We have had a great response for the 2020 Annual Diocesan Appeal! As of October 28th, we have received gifts/pledges totaling:
HSP:    $39,859 towards our goal of $40,569 (98% of goal)
HT:    $98,690 towards our goal of $111,064 (89% of goal)
Your generosity helps support the central ministries of our diocese like religious education of our young people, faith formation of adults, training of our future priests, Newman Centers on our college campuses and much more. There is still time.  A gift to the ADA, large or small, can go a long way. Consider a one-time gift or a monthly pledge for eight months. If you need a pledge card, please call the Holy Trinity office at 309-829-2197 and we'll mail one to you.  Every dollar raised to make our goal supports important diocesan ministries, and every dollar raised over our goal will be kept in the parish to help fund our parish project:
HSP: Renovate restrooms at the parish hall
HT: Upgrade the sound system in the church
To those who have already pledged, thank you!